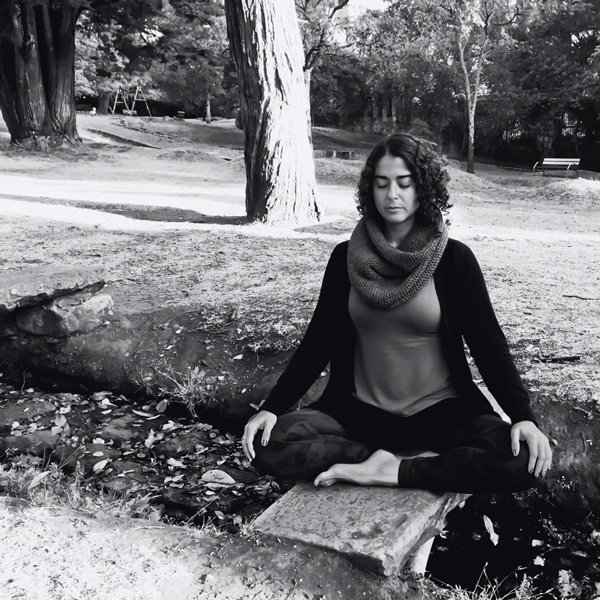 Regular practice leads to transformation.
Refine your skills today with 1:1 intentional sessions.
Deepen your practice as you hold poses for extended periods of time, send your gaze inward, and feel moment, by moment. Experience postures in a passive way and learn to be patient with your mind, emotions, and body as you breathe and soften. Open, relax, and create inner stillness in a calm, yet challenging session with slow, intentional transitions between postures. See yourself from the inside out. Restore.
Session Duration: 60 min
Offered virtually.
La sesión puede ser guiada en español.
Cette séance peut être guidée en français.
Practiced in savasana, also known as corpse pose, conscious REST* is  a practice that resets you to your core. Laying down in a comfortable, supported position, you are guided to release layers of tension from your physical body. Stillness allows you to tap into what is happening in your mind, emotions, and spirit. Setting a Sankalpa, or an intention, reveals to you what is out of alignment so that you can choose to transform from within.
Session Duration: 60 min
Offered virtually.
La sesión puede ser guiada en español.
Cette séance peut être guidée en français.
1:1 energy sessions are incredibly soothing and provide deep comfort and support in mentally and emotionally intense times. These sessions include Reiki, Acupressure, and Intuitive Spirit Guidance as need arises. When we tap into the energy planes beyond the physical, we are guided toward root causes of suffering and are able to direct our attention where it is most needed for transformation. In your first session you will complete a form so as to be best guided in your path to self-healing.
Session Duration: 90 min
Offered virtually.
La sesión puede ser guiada en español.
Cette séance peut être guidée en français.
Curious about working together?
Intentional Private Sessions are exactly that: an opportunity to work 1:1 with a clear set intention of what we envision for your practice, while being fully present to where you are in the moment. It takes commitment and dedication to transform your life and these sessions, combining both holistic and visual arts practices will assist in your return to your center. Schedule a complimentary conversation to talk about your dreams for positive change in your life and the steps necessary to make them a reality.
it is a (r)evolutionary act to choose
deep rest and creativity
Remember who you are. Support your body with pillows and blankets to breathe deeply, tune in to your mind, heart, spirit, and reset to the essence of your being. Restorative Yoga, Concentration –> Meditation, conscious REST*, and Energy sessions lead you to yourSelf. During these sessions you will be provided with tools to assist you in processing what arises from within to receive your acceptance and Love. Our holistic collaborations are enhanced by the visual arts for a well-rounded approach to Self-knowledge and expression.
You are creative. You are your own healer. The outdated belief that the visual and holistic arts are reserved for a select few is a MYTH. Patriarchal and colonialist systems have benefitted from expanding this myth that anyone with artistry and healing abilities is doomed to live in an eternal state of suffering, or are witches to be burned at the stake. This has turned people away from their own innate creativity and confidence in Self-healing. As a result, judgments and criticisms are societally cast upon us who continue to dream of a healed world. Now is the time to free ourselves from this stigma.
Reclaim your inner power. Your body is a self-healing mechanism. Inside of you is a well of creativity and intuition waiting to be tapped into and explored.
Are you ready?
set your intention
direct your gaze inward
listen in silence
create from the inside out
everything is intertwined, unknot your inner world
Family dynamics, social environment, childhood experiences, known or unknown trauma, education, socio-economic realities, race, gender identity, sexuality, religious upbringing, and so much more, play major roles in the way our belief systems about ourselves and others are formed. Dis-ease or suffering occurs when any part of us is being neglected, judged, or shamed and has come out of energetic balance with our true inner nature. All of this comes into consideration for our highest health, although it is each individual's responsibility to study their own inner world and discover how it affects their current reality.
You have the power to liberate yourSelf from harmful patterns. Every breath is an opportunity to choose to be a more sincere version of yourSelf. When inner turbulence is faced and transformed on an energetic level, it not only brings peace and holistic wellness on an individual level, but also to generations before and after.
Authentic Self-empowerment comes as an effect to guiding the shadow parts of our being into a space of kindness and Love that leads to transformation. Learn to release layers of internal tensions and judgments and reconnect to your intuition as you restore. Gain skills to express yourSelf authentically and to transform your thoughts, emotions, and experiences artistically and holistically. Through dedicated practice, bring clarity to your vision.
The amount of courage it takes to face your inner world and be true to the calling from deep within your heart is held with utmost respect here. Remember, all of your emotions are your allies and are here to show you the parts of you that could benefit from a dose of LOVE, the most powerful medicine. 1:1 sessions are intended to encourage you to create time and space for the most profound reconnection to the divine within. Your dreams are worth it. You are supported.
From a space of inner clarity, we go out into the world as humble members of the collective, working together in protection of each other, Mother Earth, and all living beings.
Ready to dive deeper? Check out the chakrARTE series
17-week series of 11 workshops on the chakras and creativity and an exhibition of works created.
Contact
+1(305) 414-4160
This is an anti-racist, queer friendly space. No exceptions.
Hours
Open by appointment.
Art viewings, private holistic or visual art sessions.
Scheduled workshops, classes, lectures, exhibitions, and events.
Rights
All content © 2022 Natalia Vásquez | Heart in Brain Studios, Inc
Reproduction of content (including images/text/offerings) from this site and any related sites is not permitted without required written consent by author.